I made a card for a friend of mine today as a part of Jennifer McGuires
#sharehandmadekindness
campaign
.
I encourage you to check out her blog and participate if you can. Make sure to leave comments and post pictures of what you have done so you can be entered in a random drawing Give away!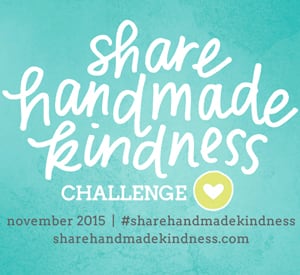 I have to tell you I really struggle with this and I need your opinions! When I take the pictures of my work should I have a staging area where everything is tidy and neat? Or is it better to take the picture right on my crafting desk.I just can't make up my mind...I feel as though staging gives off the idea my craft room is neat and tidy all the time and that couldn't be further that the truth. I start each day cleaning off my desk before I craft and by the time noon hits I have stuff everywhere. A messy desk is where the creativity flows, right??? please I want your thoughts on this so leave me a comment below. On to the tutorial shall we!?
I started out with an embossing folder from Paper Studios and watercolor

paper cut to 5" x 3 3/4".

The embossing folder has two sides. For this card I applied spiced marmalade, mustard seed, broken china, and seedless preserves from the Tim Holtz Distress Ink to the smooth side of the folder.

You need to be careful and make sure the paper doesn't slide, or smear, when placing the paper inside the folder. Then run your embossing folder through your machine. I use the Big Shot but anyone of them will work.
Look how beautiful the ink transfer is! Its instant results and looks awesome! I glued my paper to the card once it was dry. Make sure to clean the ink off of the embossing folder when your done.
Isn't the sentiment "Thank you" Pretty? I love the Script! Its a Die by Hiedi Swapp. I heat embossed a section of paper big enough for my sentiment die with black heat embossing powder.
Once the black embossing cooled off I ran it through my big shot using the Hiedi Swapp Die and adhered it to the front of my card with tiny spots of glue. I love the end results and its a quick card that could work for any occasion.
I can't tell you how much I appreciate your comments so please be sure to leave me a comment below letting me know how you feel about how I take the pictures. Thank you so much for stopping by today. Oh, don't forget to head over to Jennifer McGuires blog and take part in her campaign!